£15m deal for speculative development at Worcester Six
26th October 2015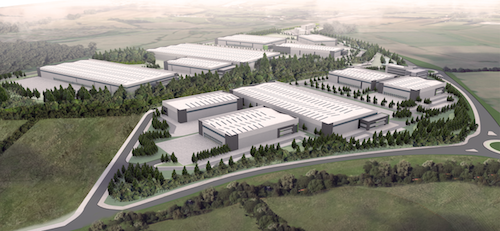 A £15 million speculative funding deal has been agreed with an overseas investor for two large commercial units to be built at Worcester Six Business Park Worcester Six Business Park – a key development site within Worcestershire and the West Midlands – leading property developer Stoford announced today (October 21) at MIPIM UK.
The units of 160,000 sq ft and 45,000 sq ft will be the first to be built at Worcester Six, which will provide up to 1.5 million sq ft of accommodation in a range of high quality business units as well as providing over 5,000 jobs.
The speculative commercial units have been designed for a variety of employment uses to include technology, manufacturing, industrial and warehousing. The announcement gives the £120 million business park a further boost after it was announced that work has already started on a £10 million infrastructure upgrade.
Funding for the upgrade has been delivered by Worcestershire Local Enterprise Partnership through the Growth Deal. Worcestershire County Council, working in partnership with Birmingham-based Stoford, has begun a programme of work to provide greater access and improve traffic flow to the Worcester Six site.
Speaking at a World Class Worcestershire business showcase at MIPIM UK in London, Stoford director Gerard Ludlow said: "We have reached agreement with an overseas investor to speculatively build two commercial units at Worcester Six. Funding is in place for the £15 million deal and we are keen to get started as soon as possible.
"We will be submitting a reserved matters planning application hopefully by the end of next month (November) with a view to starting construction on site at the end of the first quarter of 2016. The two units should be completed by the last quarter of the year."
He added: "This is the first large scale speculative development in the Worcestershire for more than 10 years and clearly demonstrates confidence in Worcester Six and that the project is deliverable.
"Building these units speculatively will give us the best opportunity to attract and secure inward investment into the region and to nurture the local technology-based businesses."
The development site has been identified within Worcestershire's Strategic Economic Plan as one of four 'game changer' sites – key employment sites seen as important in driving the county's economic future prosperity, and together  are expected to create over 16,000 new jobs across the county.
Business Secretary, Rt Hon. Sajid Javid, said: "Worcestershire is home to fantastic businesses – iconic British brands like Morgan and inward investors such as Yamazaki Mazak.  With a central location, enviable employment rates, a strong skills base and a number of game-changer sites being developed to accommodate businesses there is every reason for businesses to locate and grow in Worcestershire. For Britain to prosper every part of the country must fulfil its potential. That is why this Government has committed to making the Midlands an engine of growth."
Stoford is a leading specialist in occupier-focused development. It has delivered over 10 million sq ft of pre-let development and in 2012 to 2014 had more than 1.5 million sq ft of pre-let space under construction throughout the UK.
Contact Ben Wiley at agents Strutt & Parker, Charles D'Auncey at Harris Lamb or Gerard Ludlow at Stoford for more information or visit www.worcester6.co.uk.  Join the Twitter conversation #WorldClassWorcs.